My amazing clients often ask me "why don't you start a hosting company?" The answer is it's really hard to do extremely well. Having very high standards for my clients and services, it would require a dedicated team to build a formidable hosting solution. If I were to ever embark on building a hosting company, my primary source of inspiration would be Kinsta. Read on to find out why.
Since Kinsta is built by developers with extremely high standards like myself, they have the most feature-rich hosting solution I have come across to this day. They focus on their dashboard and UX to cater to both developers and regular users alike so that nobody feels overwhelmed, confused or limited in any way. This is an extremely delicate balance to maintain and they have done and continue to do an incredible job of over-delivering!
Kinsta also actually listen to their users. I have made several feature requests to the beautiful MyKinsta dashboard and server configuration which have actually been implemented. Let that sink in for a second, a hosting company that actually listens to your feedback and implements solutions – they are a paragon of how hosting companies should operate.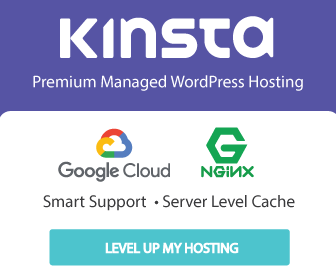 Favorite Kinsta Hosting Features
Kinsta prioritizes the following principles for their valued customers:
Performance
Stability
Security
Convenience
All of these features below allow my clients and me to rest easy knowing we are being well taken care of proactively!
Having Kinsta manage your site is really like having a personal web developer concierge at the helm like a bad-ass tech Captain of your website ship, it is genuinely impressive and pleasure to enjoy their hard work and intelligent decision making.
Without further ado here are my top favorite features to help make life easier :).
Automatically Restart Key Services
On all of the servers I custom build, I always configure the Monit service to monitor key services like nginx, PHP-FPM and MySQL. Monit will automatically restart these critical services for your website and notify you by email if one of the services crashes.
Kinsta have done the same! As of 2019 (see announcement), if PHP-FPM or MySQL services crash Kinsta's intelligent monitoring will notify you and autorestart these services to keep your site running!
Restart PHP service automatically (read more here) – notification to be implemented soon and screenshot to follow!
MySQL service restarts automatically – notification to be implemented soon and screenshot to follow 🙂
Notification of Fatal Issues
Anybody who has owned a WordPress site or WooCommerce store for long enough will know that sites can crash for various reasons. One major reason is fatal PHP errors due to plugins, the theme or other custom code. Another is the dreaded 'Error Establishing Database connection' error. Sometimes this happens by accident or when updates have not been tested thoroughly on a staging site. In both cases, Kinsta support will send you a notification so you can fix this urgent issue.
Get notified if a PHP fatal error occurs just like demonstrated below.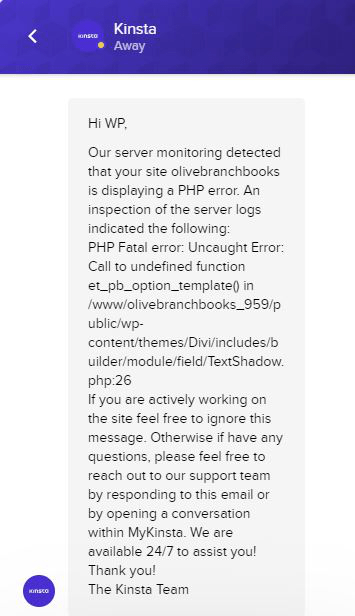 MySQL database connection issues get you an email as well – screenshot to follow.
You really could not get more proactive than this when it comes to fatal errors. This can help save face to your visitors, prevent Google penalties that could affect SEO rankings and of course your reputation of infrastructural sophistication for your potential clients.
WordPress Vulnerability Notifications
Because WordPress is so incredibly popular, it, like Microsoft Windows, is often the target of hackers. Exploits are regularly discovered in WordPress themes and plugins.
There are a few databases for security issues in WordPress plugins and themes like WPScan and ThreatPress.
Kinsta have built something pretty amazing. They subscribe to vulnerability databases and, once a vulnerability is announced, scan your sites to see if you have any sites that could be affected by zero day security issues so they can send you a notification to address it ASAP.
Patching the security vulnerabilities on your sites can save you from incredbily large and painful headaches. If your site is infected by malware Google can punish you and display warnings to your visitors. Your site can be defaced and malware injected which sends your users to malicious websites. The list goes on, for store owners it can destroy your reputation or marketing efforts. It is the most important thing to be vigilant of with your site.
If you are looking for site care then please feel free to reach out to help craft a maintenance and disaster plan for malware or hacking breaches of your site.
Here is what the notification from Kinsta looks like if you have a known plugin or theme vulnerability – you get chat notification via Intercom support as well.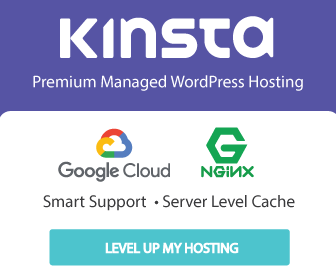 Performance Analytics
Check out the MyKinsta dashboard demo here.
You can look at the slowest requests in terms of upstream time and PHP+MySQL processing time. This can be extremely useful in identifying performance bottlenecks to address in your site which can ultimately help improve bounce rate, conversions, revenue and SEO.
On numerous occasions I have helped my clients save precious time identifying the major slowdowns of their site thanks to this awesome Kinsta feature. This also helped them save their hard-earned money too for other development work or business activities!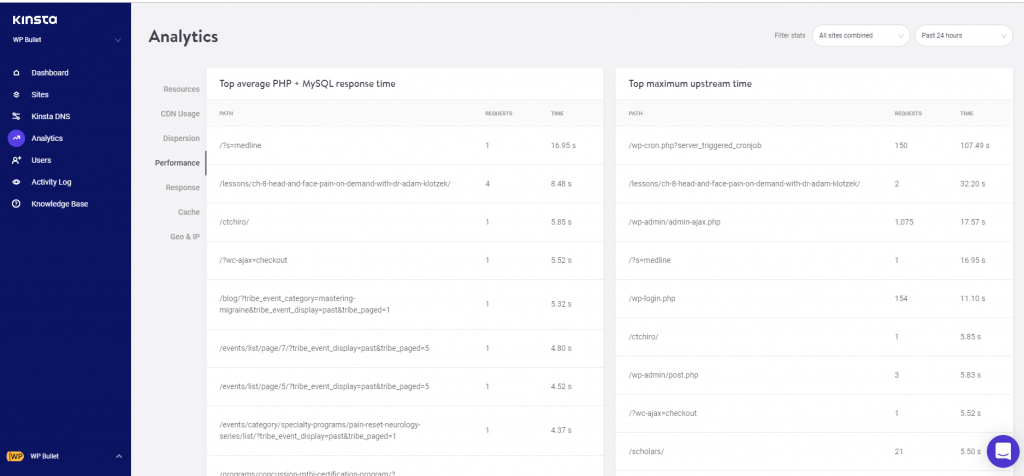 You are able to do this for all of your sites together, each site indivually and over 24 hours, 7 days or 30 days!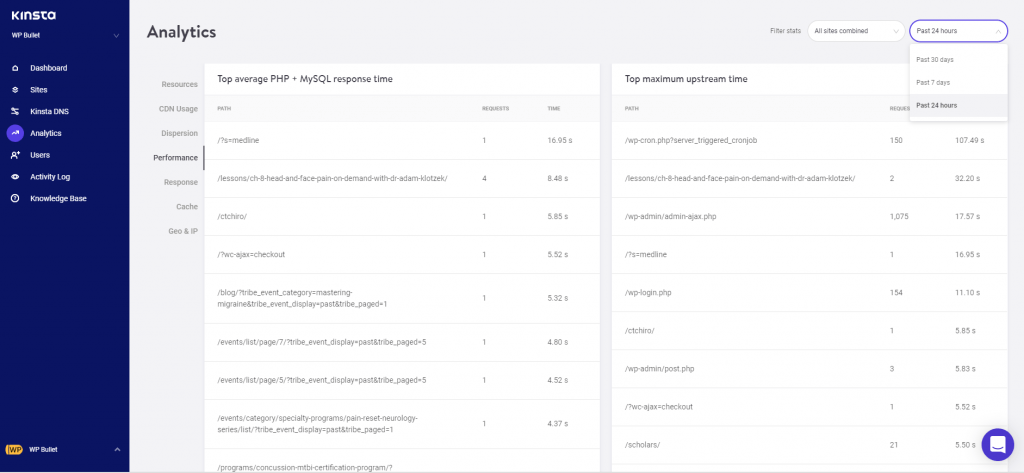 PHP-FPM Status page
pool:                 wpbullet
process manager:      ondemand
start time:           13/Sep/2019:17:32:54 +0000
start since:          1964843
accepted conn:        503904
listen queue:         0
max listen queue:     0
listen queue len:     0
idle processes:       0
active processes:     1
total processes:      1
max active processes: 6
max children reached: 150
slow requests:        0
Screenshot from Google Chrome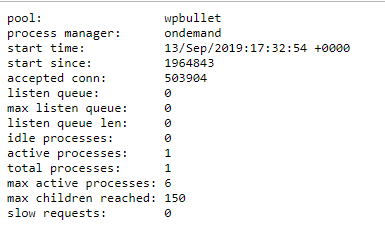 Kinsta's Application Performance Monitor
Kinsta released their own APM tool like New Relic for free! You can demo the APM here to see how valuable this is for finding performance bottlenecks and insights.
Cloning Existing Environments
If you are not already using staging environments in your workflow or insisting that your developers do, start doing so now! The amount of headaches that are eliminated is significant when using staging environments and clones to avoid crashing or breaking your site site when new updates or features are added.
Kinsta's dashboard has a way to help you clone existing sites if you need another staging site beyond the one already included for your live site.
This helps you make dedicated staging environments for different developers like your designer, marketer, backend developer or frontend developer (maybe even from Codeable).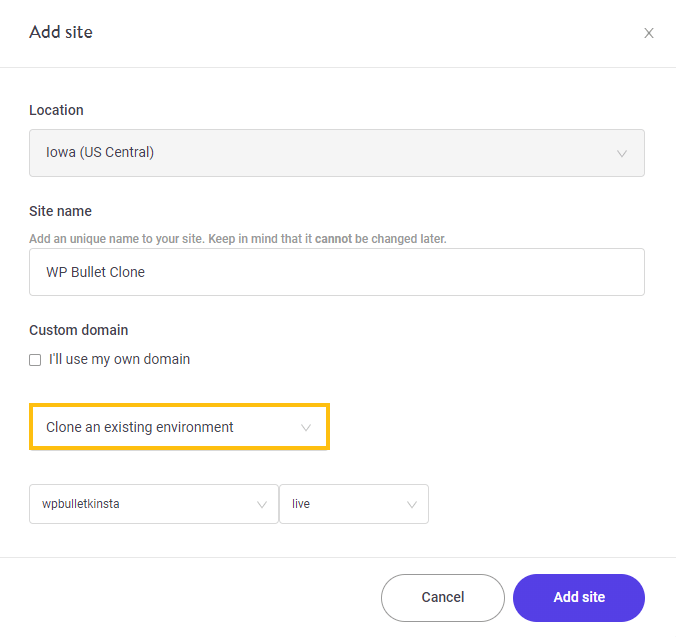 New Relic Integration
Performance issues plague all types of users these days. Having the right tools to diagnose and find the culprits is absolutely critical. New Relic is one of those tools and often I have to move clients away from their budget hosting so that I can use the necessary tools to help them.
Kinsta allows you to easily add your own New Relic API key just inside the MyKinsta dashboard so you can start the troubleshooting process without even having to open a support ticket!
You just have to go to the Tools section and click Start Monitoring.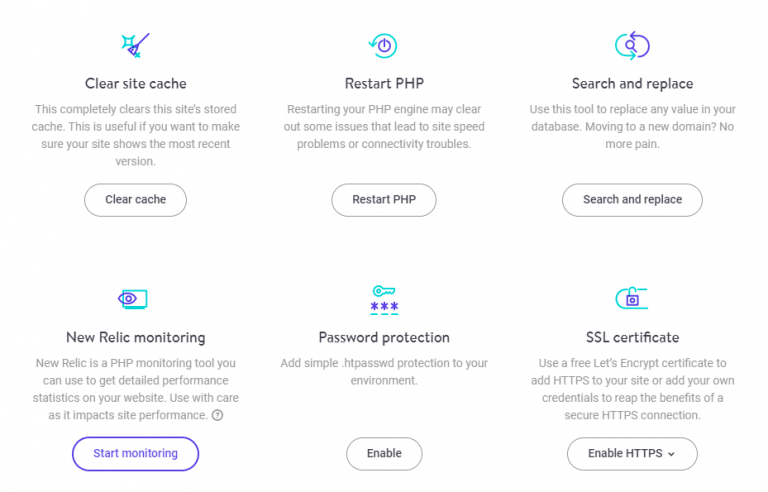 Add your API Key (this one is fake) and you are ready to go :).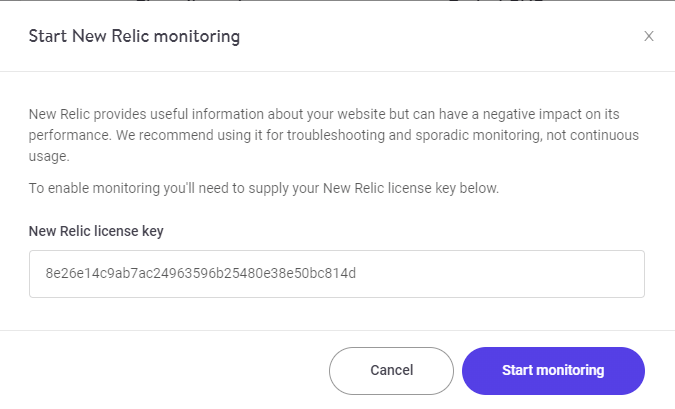 Backup System
Backups are lightning fast. Clients regularly ask me if there is a bug in the dashboard because the backups finish in seconds!
You have multiple backup types so it is basically impossible to not have a backup to restore to in case of emergency.
Personally I use the manual backup option for on-demand backups before I make any changes to a client's site. This saves my clients and myself so much time compared to relying on a backup plugin.

You can also generate downloadable backups as a zip file so you can create a local installation. One drawback here is you can only do this once per week which I hope changes in the future.
They also have automatic system generated backups which happen after you restore a backup. This can help prevent those "oh sh*t" moments when you forgot to take a backup before restoring a backup!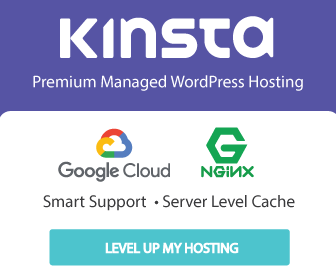 Moving Datacenters
All pro site owners know which part of the world their visitors are coming from thanks to their own perusal of Google Analytics or reports from their marketing or SEO team. For performance reasons you always want your site to be as close to the majority of your visitors geolocation because latency correlates with physical distance.
If your site is currently in the West Coast like Oregon but your analytics tell you that more of your traffic is coming from California, a quick ping to the Kinsta support staff with a request to move the site is all you need to do! This is also done with zero downtime thanks to the proxy put in place until you update your DNS :). This kind of convenience is hard to find in any managed host.